I have had a thing about Lego for as long as I can remember. This led to a school project on Denmark, where I announced that I had not been to Denmark 'but I would like to one day'. I don't know how old I was, but I do know my writing looked this bad:
Denmark is a country I have a deep affection for. I get Denmark and Denmark gets me. Perhaps I should write a blog post raving about how exciting it is to visit a place with stunning architecture, views, Viking sites, the original Legoland, food, castles, design, pastries, bacon and clever Scandi-solutions everywhere you go, but this is not that post.
Well. You get the idea.
Nope. This post, following on from one I did about Rudyard Kipling's home in East Sussex, is the second in an occasional series I am writing about places associated with well-known writers. I want to learn about what other authors' places were like, what inspired them and how their creative spaces looked, if it is still possible to visit them.
I first went to Denmark for a long weekend with Matthew for our tenth wedding anniversary. We took the children last summer on a return visit. As well as Copenhagen, we got to travel on a replica Viking boat and were able to spend time on Jutland so that I could fulfil my ambition to visit Legoland Billund. As a writer, one of the highlights for me was popping in to Odense in order to visit the home of Hans Christian Andersen.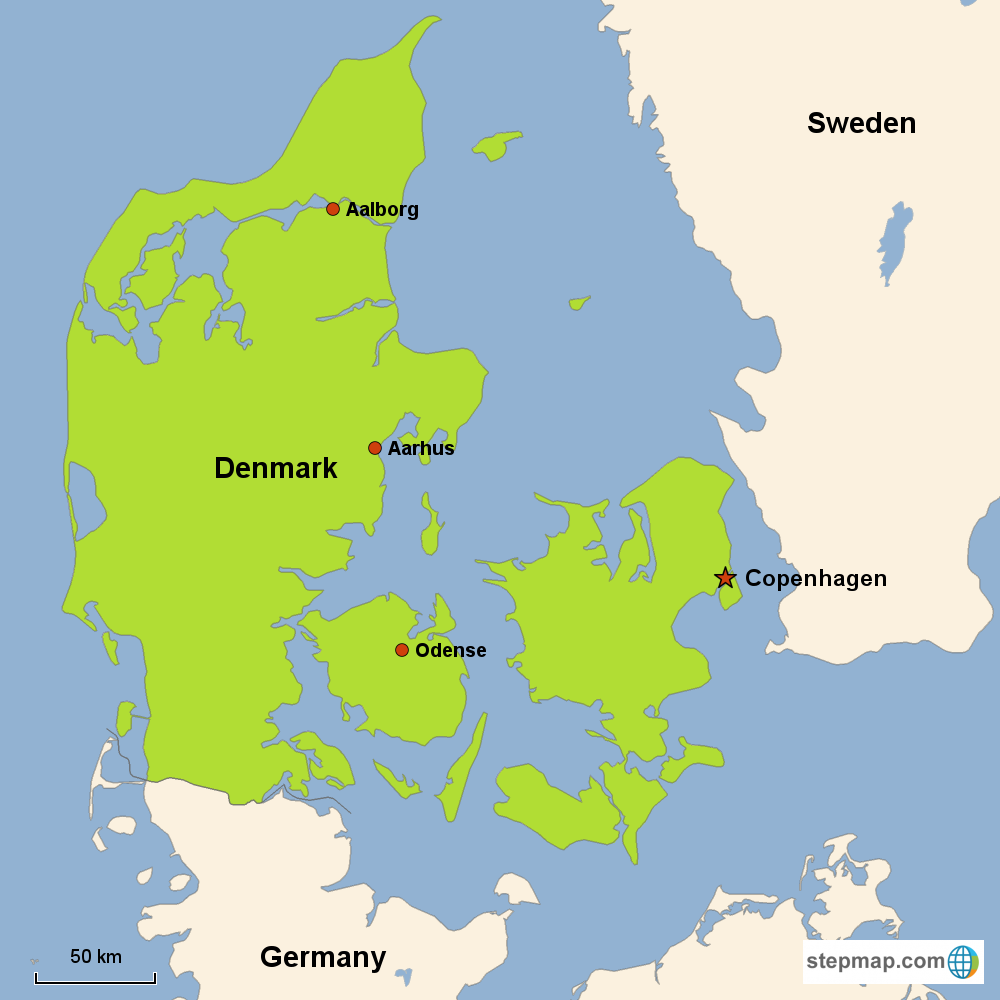 Odense is on the island of Funen, which is connected by bridges to Jutland to the West and Sjælland (Zealand) to the East. A visit to Odense is well worthwhile; it is a pretty town with lots of history and is conveniently between Copenhagen and Billund. 
It is also, of course, the home town of the celebrated Danish storyteller Hans Christian Andersen (1805-1875).
Odense is home to the birthplace of Andersen, which has been adapted and extended into a fascinating museum about the man and his work, and also his childhood home, a humbler and much smaller yellow building with lots of timber details and the same tiny, curtained cot-beds and metal box radiators you can find in other historic buildings in Denmark.
Both sites fascinated me. I was intrigued to learn a lot about this famous author, but also surprised at how humble his beginnings really were. His mother was an illiterate washerwoman, who had hopes of her son becoming a tailor. Hans was certainly an odd character himself. He wrote prolifically (over 3000 works, including fairy tales, poetry, novels and travelogues), travelled widely and had a hobby cutting paper shapes. Bizarre, enigmatic paper shapes. He was tall and had a large nose and chose a life of celibacy, perhaps to disguise his various attractions. His stories were as bizarre and creative as his papercutting.
Some of Hans Christian Andersen's more famous stories are 'The Emperor's New Clothes', 'The Little Mermaid', 'The Snow Queen', The Ugly Duckling', 'The Princess and the Pea' and 'Thumbelina'. Though few people read them in the original Danish, many are very well known through translations, films, plays and ballets.
Andersen clearly had a vivid – and often disturbing – imagination. He had grown up in poverty and been mistreated by a school-master. He had been told not to write and had failed at various career options. However, he appears to have had confidence and a need to write, which led to some of his writing getting published in Denmark and then acclaim in Germany and England too with 'The Improvisatore', a novel set in Italy and published in 1835.  The same year, his first fairy tales were also published, almost unnoticed. The first ones were re-told folk tales with strong moral messages, and later ones came from his imagination, often drawing on personal memories. Many of the fairy tales have strong characters and memorable dramatic or emotive situations. Andersen had an ear for telling stories like a child and an eye for sentimental detail.
While we were at the Hans Christian Andersen Museum we bought a Danish edition of an English retelling of his Danish work, 'The Little Tin Soldier'. I'm not sure if you can source it anywhere else. My Danish is not strong, but I'm pretty sure the internet is right in translating the first part as 'He began to blow as hard as he could.' The second part is easier to guess.
Danish is a curious language. If you have learned German and are fluent in English, a great deal is guessable. If you know Norwegian or Swedish it is even easier. Danes are quirky and direct. You are likely to see signs like this at the stations, for example. The literal translation is 'do not have your head under your arm – for your safety' and the meaning equates to 'keep your head screwed on'.
I can't help thinking the national mentality is still not far removed from Andersen's.
Hans kept his head under his arm however, so to speak. He kept his hands busy too, churning out page after page. This is one of his writing spaces, at the Museum:
Such an elegant space, with many nineteenth century details, dark wood and curves. As a tall person myself I doubt he would have been particularly comfortable at the desk for long, although he was often travelling and writing. If it represents Andersen's real work space it appears remarkably tidy, not to mention free of tiny paper cuttings.
There are few other books in this space and everything feels dignified and proper. Perhaps he was trying to show his wealth in a good light.
Here are a few more facts about the man himself:
Hans left school at fourteen, started as an apprentice tailor in Copenhagen and tried unsuccessfully to work as a singer, dancer and actor there, having lost his father in 1816.
He often lived as a guest in the country estates of wealthy friends. He loved meeting celebrities of his day.
He overstayed a visit to Charles Dickens and was eventually asked to leave after five weeks; this meant the friendship broke down.
He couldn't spell or write elegant Danish, as he struggled to work systematically after a poor initial education; his writing is colloquial and easier to read as a result.
He was frequently in love, but apparently always unrequited; the famous singer Jenny Lind turned down a marriage proposal from him.
Today, thousands of people visit his hometown each year to see where he grew up, and millions around the world know his stories. Andersen has been immortalised in many ways and in many places. The latest is this:
Lego Creative Personalities set 40291 has just been announced: a book with reference to the great Dane. It seems Hans Christian Andersen still captures the imagination of young and old alike. Even in Lego.