I asked Faye what she wanted me to include in this month's update for the Year of the Dog series. (See January, February, March and April if you haven't already).
She's not very good at English yet. She doesn't say much either, to be fair.
Not to worry. I am learning more and more Dog, specifically Greyhound dialect. I can't speak it, but I am trying to understand it. Mostly understanding Faye comes down to body language. Thankfully, she is always keen to please, lives in the moment and is grateful for every bit of attention, meal, walk or car journey.
So instead of Faye's animal version of events, here's my own round-up of what Faye has been up to and new things she's encountered with us in the past few weeks.
In order to help reduce her prey drive, we have made a point of low-key and short introductions to small dogs and other animals. She gets lots of praise for a quiet, relaxed reaction. Here Faye is observing guinea pigs, sheep, ducklings and any number of imaginary squirrels, rabbits and birds. Most of the time she is doing amazingly. Sometimes we have to hold her firm; even today a cat ran across the road in front of her and she thought it necessary to pull hard on the lead. She is trained to chase and has a natural drive to go for moving furry things. Very fast.
I am glad she has a muzzle when we're out – if a small fluffy dog decides to run up to her she will react with a growl and then sometimes snap at them. She won't do it unprovoked, but in order to see these smaller dogs as friends she's been doing some short walks with some local Bedlington Terriers. Apparently these two breeds historically used to work together to flush out and chase down vermin. I'm not sure Faye would know what to do next though; most greyhounds have very little retrieving ability.
I had heard that greys are not interested in digging either, although that also appears to depend on the actual dog. Faye observed us preparing a vegetable patch (she was very keen to come out and watch several times) and then managed her own bit of digging on a bit of garden while no one was looking. It didn't do any damage, and thankfully was before we had planted anything in that patch. Maybe I need to get her observing me doing some more helpful tasks, such as shredding or collecting the post. But not both at the same time.
This month has also been about teaching Faye about where she lives. She was born in Ireland, but that's no reason not to try and understand the British way of life too. She accompanied me to the voting station in the local elections recently, but was not impressed by the Royal Wedding – she thought the plastic hat was for her and took it into the garden, then slept through most of the ceremony.
We don't hold it against her though. She's not the brightest button. Sometimes she isn't even sure if she'll fit through an open door.
Um, have you tried coming through the gap?
For all her silliness, we do love her to bits. She came with me to my writing group in Norfolk this week and did brilliantly. She behaved well, and we went on from there to drop off some fish kibble which hadn't been working for us to the King's Lynn branch of the Retired Greyhound Trust and had a walk with the beautiful Maud.
Maud is a gorgeous and gentle girl with over a hundred races under her belt. Or should that be collar? Her fur is very soft, and has special 'snowflake' white flecks in the black. She got on brilliantly with Faye and would make a super pet for someone – she's still only four years old. Click on the link here to see more pictures of her:
Faye would have loved to have taken Maud home as a sister, and I would have happily taken her too, but it is too soon for us to be getting another greyhound in the family.
On Sunday afternoon she will be meeting a lot of other greyhounds and their families though, at the Newmarket Greyhound Extravaganza. I will hopefully be able to report back next month about how it all goes.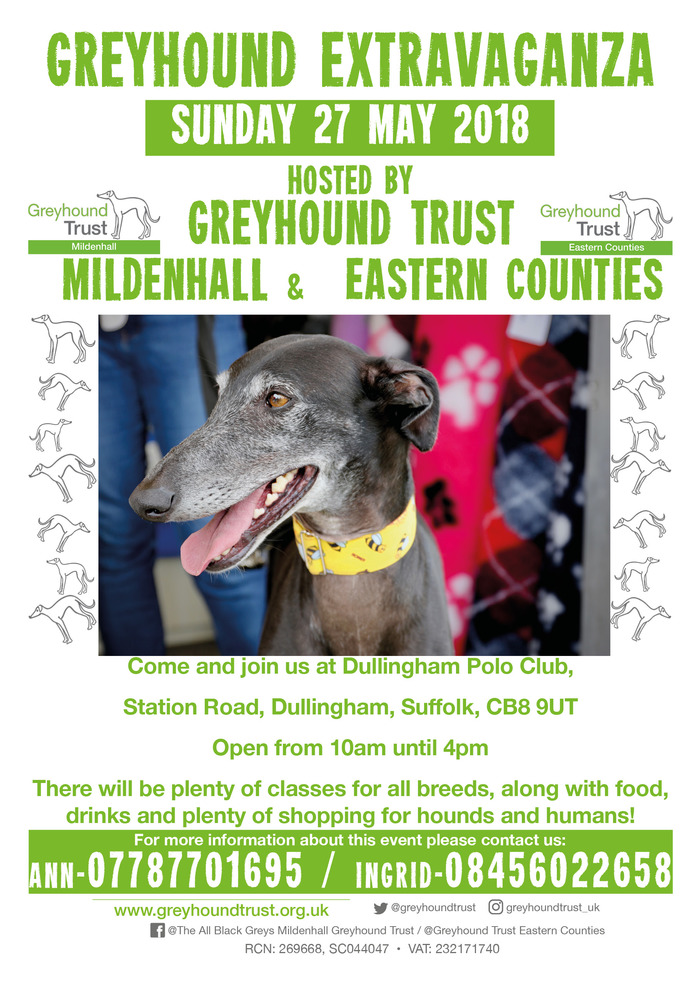 For the time being, Faye is comfortable just chilling and spending most of the time asleep in whichever position feels most comfortable. I don't blame her.